Litter Annoucement: Cako x Harry Pups Arrived 1/15/17- ALL HAVE BEEN SOLD!!
Cako has been bred to Harry,
​(a Master Pointing Lab out of Hi-Point Labradors, Kimball, SD). She delivered 7 healthy pups on 1-15-17. This re-breed will make exceptional puppies. I currently hunt two full brothers from this mating's first litter that are two years old and they are exceptional! Both hunted at the One Box Pheasant Hunt this year and earned first and second place in the new shooter division. Pups will go for $1200. Contact us today to lock in your spot on the next upcoming litter from Keslar Kennels!!

Mattie Giving Cako (mom) a Break!

​Congrats to the following who have locked up this amazing litter picks:

Chad Peterson, Grand Island, NE
Darby Flansburg, Ogallala, NE
Bryan Slocum, Franklin, NE
Kaleb Wilber, Oklahoma
Tim Cook, Iowa
Jack Bedessem , Wyoming
Bill Pratt, Missouri

On February 7th 2015, Cako delivered 9 healthy puppies. 3 black males, 3 black females, 2 yellow females, and 1 chocolate female!! Cako is doing well, and all pups have been spoken for. Contact us to get your spot secured on the next great litter!
---
Keslar Kennels Participates in 54th Nebraska One Box Pheasant Hunt, Broken Bow, NE!!
"Keslar Kennels participated in the One Box Pheasant Hunt on November 8th, 2014 in Broken Bow, NE. Pat has been an official dog handler for the event for 34 years! His team "The Nebraska Team" came in 4th overall with 8 birds. Tehl's team, "The Power Hunters" came in 5th with 8 roosters as well, with the tie breaker for 4th and 5th determined by finished time. Tehl has been an official dog handler for 12 years now. The winning team finished with 15 roosters and 1 quail. The dogs performed great, and both teams came back without a lost bird!"
---
---
---
Mattie/Sparky puppies born April 2014!!!


Mattie & Sparky Pups 5-15-14!


---
---
Keslar Kennels Participates and Wins Rock & Rooster 2014!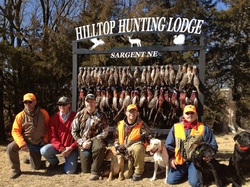 In late March, our team participated in the Rock and Rooster Shoot in Broken Bow, NE. Great shooting, dog work, and sporting clays/trap and skeet resulted in bringing home 1st place! Dogs got great "out of season" work at the Hilltop Hunting Lodge outside of Sargent, NE that will prove invaluable!

---
---
New Family Pictures from 4/25 puppies!!