Keslar Kennels

is nestled in the beautiful Sandhills of Western Nebraska. We have been raising top-quality labs since 1980. We are confident that when you purchase your next hunting dog, you will be completely satisfied with your experience.

Our goal is simple: To raise and sell top-quality hunting labs as an all-day hunter or highly competitive AKC/HRC hunt trial tests

We have had our dogs showcased on ESPN and also local state-wide hunts such as the

Nebraska One Box Pheasant Hunt

. The relationships we have built over the past 30 years have allowed us the opportunity to meet and develop long-lasting friendships. We hope that you contact us and let us get you on the way to having a great quality lab.



Pat & Carmen Keslar
---
HRCH Keslars Land Shark on the Ritz MH x Keslars Land Shark Wildhorse Flip Pups
Born July 7th!! Available Now!

This is possibly the top line bred litter of this year! Dam is HRCH KESLARS LAND SHARK ON THE RITZ MH, "Ritz"a daughter of 6XGRHRCH LEITNER FARMS LAND SHARK MH 4XMNH HOF QQA, "Jaws" our chocolate female who is the first chocolate female to have these titles she's earned in the Labrador breed! Ritz's sire is FC AFC TIGER MCBUNN, also a great producer! Sire is KESLARS LAND SHARK WILDHORSE FLIP, a son of Jaws and NAFC FC AFC TEXAS TROUBADOUR. Hips, eyes, elbows, EIC, CNM, etc. all excellent, normal and clear! Pups were born July 7th! They should be capable of any job a lab can do! I might add, Ritz is my favorite dog I've raised in 40 yrs of breeding Labs! Tremendous pheasant hunter, marker, trails and points and shares a cocktail after the hunt!
---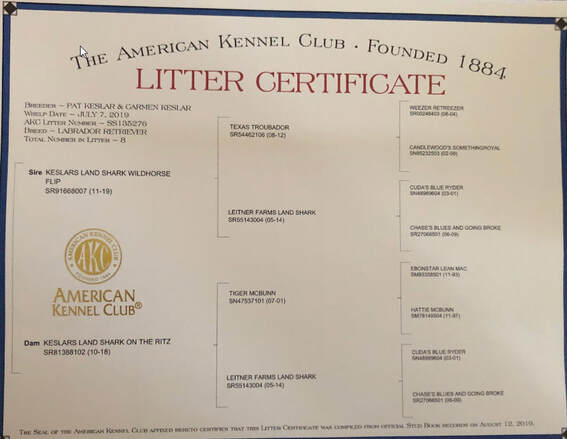 ---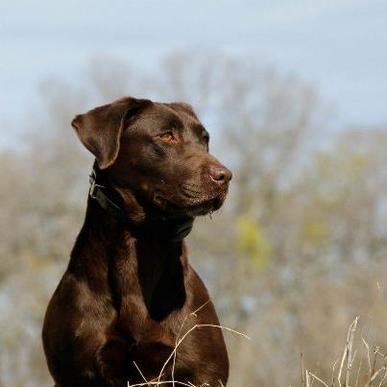 Proud
Home and Owners


of:





"JAWS"
6XGRHRCH Leitner Farms Land Shark MH MNH4 HOF QAA
"Best All Around Chocolate Female the Breed Has Had!"
6 Grand Passes


4/4 Master National Passes
Master National Hall of Fame Inductee (2015)
Qualified All Age
---
JAWS GOES 6/6 TO NAIL HER 4th MASTER NATIONAL!!
---
Keslar Land Shark on the Ritz

"Ritz" is a 20 month old female out of

5XGRHRCH Leitner Farms Land Shark MH MNH HOF QAA

&

FC AFC Tiger McBunn.

She is owned by Keslar Kennels.






---
Keslar Kennels Brings Home 1st Place at Nebraska One Box 2017!
Keslar Kennels represented very well in the 2017 Nebraska One Box held in Broken Bow, NE. Tehl Keslar was part of the winning team "Cattlemen's Bawlers", with an all-time One Box record 15 pheasants and 5 quail on 25 shots, and no lost birds. This marks Tehl's 6th One Box win putting him #1 all time in the history of the hunt! This was Tehl's 15th year One Box dog handling! 6th place was Pat Keslar's team with 10 birds. This is Pat's 37th year dog handling. All dogs represented well on another warm November day with "Bella" and "Gunner" getting their first hardware at this years hunt.
---
"

THE KENNEL

"

---